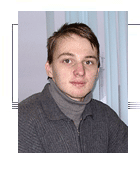 Mr. Dmitry Zhdanov

Curriculum Vitae
Teaching
Publications
Contacts


Welcome to Mr. Dmitry Zhdanov's personal home-page
Mr. Dmitry Zhdanov is a PhD student with the Quantum Informaion Laboratory, International Laser Center and Faculty of Physics, M.V.Lomonosov Moscow State University.
Please use the links in the left column, below the photo, in order to look at his curriculum vitae, publications, and contact information.
More information on the research activities can be found at the home page of the QI-laboratory.